Version 0.8.0 of Nimbus was released on September 28, 2011.
This major version introduced the new Nimbus Attributed Label, an iOS SDK-based solution for styled text built by Roger Chapman (rogchap).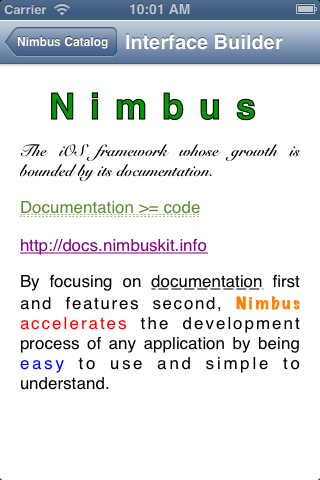 Added Frameworks
Core
NIFoundationMethods[.h|m]
Bugfix

Make boundf and boundi perform consistently for invalid bounds (e.g. max < min).
Interapp
Models
Bugfix

Fixed a minor bug related to using nil in Nimbus table view models.
NITableViewModelTests[.m] Added
Network Image
Bugfix

Fixed a bug with redirected image URLs not being cached properly (thanks to aviell.)
NITableViewModelTests[.m] Added
Photos
Bugfix

Fixed a crashing bug due to sending dealloc at the wrong time (thanks to baz.)
Web Controller
Bugfix

Fixed misc bugs related to web controller action sheets (thanks to bmeurer.)
Examples
Basic Attributed Label [added]
Real Live People Involved in this Release
Roger Chapman
Glenn Grant
Aviel Lazar
Benedikt Meurer
Basil Shkara
Jeff Verkoeyen
Add Your Name to This List
Contributions are highly encouraged! If you have a feature that you feel would fit within the Nimbus framework, feel free to fire off a pull request on GitHub. Bugs may be reported using the issue tracker on GitHub as well.
Check out the tasks grab bag for opportunities to help out.
Robots Involved in this Release